CKI-FÖRLAGET
Box 14037, S-40020 Göteborg, Sweden
Telefon: [0]31-408493. E-mail: carl_olof_jonsson@yahoo.se
---
Litteratur på svenska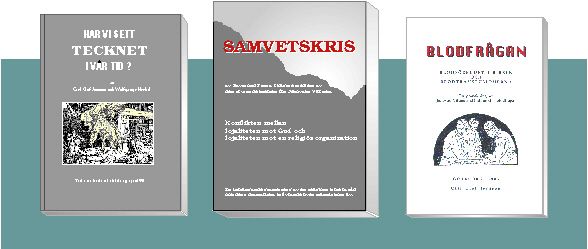 Raymond Franz: Samvetskris
(1990). 417 sid. Förlagspris: 120:- kr + porto.
Raymond Franz har tjänat på alla nivåer inom Vakttornets organisation, som pionjär, krets- och områdestillsyningsman, missionär, samordnare och slutligen som medlem av den högsta ledningen för rörelsen, den styrande kretsen. Det han fick se, höra och uppleva i denna ställning tvingade honom slutligen att fullständigt omvärdera den lära han hade trott på och kämpat för hela sitt vuxna liv. Raymond Franz skildrar på ett gripande och rättframt sätt denna dramatiska kris, som ledde fram till hans brytning med rörelsen 1981. Boken "ruskar om samvetet.…En varning för vad som kan inträffa när en individ överlämnar sin gudagivna rätt att fatta beslut åt en organisation". – Kim Kimmons, redaktör för The Franklin Press.
Carl Olof Jonsson och Wolfgang Herbst: Har vi sett tecknet i vår tid?
(tredje utökade upplagan 1995). i-xii + 147 sidor. Förlagspris: 50:- kr + porto.
Har vi i vår tid upplevt en makalös ökning av krig, svält, farsoter, jordbävningar och våld? Är dessa svårigheter "tecknet" på att slutet står för dörren? Den här boken besvarar dessa frågor i form av grundligt dokumenterade historiska bevis. "Det är en imponerande mängd fakta som gått in i denna bok – det måste ha betytt ett enormt detektiv-arbete i arkiv m.m. Vidare är jag imponerad av den allsidighet med vilken problemen behandlats. Jag är övertygad om att denna allsidighet kombinerad med en utomordentlig framställning kommer att locka oerhört många läsare – verkligen en 'best seller'." – Markus Båth, professor emeritus i seismologi och grundaren av den skandinaviska seismologin.
Carl Olof Jonsson: Blodfrågan
(1993). 64 sidor. Förlagspris: 30:- kr + porto.
Jehovas Vittnens vägran att ta emot blodtransfusioner är välkänd för allmänheten. I årtionden har deras kontroversiella ståndpunkt skapat uppseendeväckande rubriker i massmedia, inte minst på grund av de dödsfall som den emellanåt resulterat i. Läkare och kirurger har vid sådana tillfällen hjälplöst fått bevittna hur deras patienter har dött på operationsbordet. Räddningen har funnits inom räckhåll, men deras händer har varit bakbundna. Den här boken presenterar chockerande bevis för att Vittnenas ståndpunkt är grundad på feltolkningar och missvisande informationer, bevis som enskilda Vittnen hittills inte haft tillgång till.
BETALNING: Betalning kan ske via PayPal eller till CKI-Förlagets bankgiro: 821-8372.
---
CKI-FÖRLAGET
Box 14037, S-40020 Göteborg, Sweden
Telefon: [0]31-408493. E-mail: carl_olof_jonsson@yahoo.se
Crisis of Conscience
by Raymond Franz - (Fourth Edition 2002), 438 pages.
Paperback: Swedish kronor (SEK) 140:- (EURO 14.-) + postage.
A former member of the Governing Body of Jehovah's Witnesses gives unique insight into the authority structure of that religion. Also available in German, Italian, Spanish, Swedish and many other languages.
In Search of Christian Freedom
by Raymond Franz (3rd updated edition 2002), 732 pages.
Paperback: Swedish kronor SEK 180:- (EURO 18.-) + postage.
A sequel to Crisis of Conscience. As a highly qualified researcher, Raymond Franz spent his last fifteen years within the Watchtower organization at the headquarters' Writing Department, nine years of which he also served on the Governing Body. His critical examination of the Society's doctrinal system, therefore, reflects his unique insight into the problems associated with the claims and message of the movement. The book is a goldmine of information. Also available in some other languages, including German and French.

The Gentile Times Reconsidered
by Carl Olof Jonsson (4th revised and expanded edition 2004) viii + 390 pages.
Paperback: Swedish kronor (SEK) 140:- (EURO 14.-) + postage.
First published in 1983. This book reveals the actual origin of the interpretation which eventually produced the date of 1914 as a predicted year for the end of the "Gentile times," a date adopted and proclaimed worldwide to this day by Jehovah's Witnesses. The importance of this date for the exclusive claims of this movement is repeatedly stressed in its publications. The book carefully examines its Gentile times chronology, based on the supposition that Jerusalem was desolated by the Babylonian king Nebuchadnezzar in 607 BCE, and presents seventeen lines of evidence demonstrating that the Watch Tower Society's chronology is based on a myth of great proportions. Also available in German, French, Hungarian, Portuguese, Swedish (web edition, 2011), and some other languages.
"This is a most useful and timely publication which will be of great value to the understanding of the truth and interpretation of Scripture and also of ancient Near Eastern history and chronology." – Donald J. Wiseman, former Professor of Assyriology in the University of London.
"[T]he finest overview of NB [Neo-Babylonian] chronology available". – Dr. W. Gallagher in Archiv für Orientforschung, Vol. 51 (2005/2006), p. 423.
The Sign of the Last Days--When?
by Carl Olof Jonsson & Wolfgang Herbst (1987) (edited by Raymond Franz), 288 pages.
The English edition is presently sold out. Available in German, Swedish, and some other languages.
Apocalypse Delayed
by James Penton (1985; revised 1997), 400 pages.
Paperback: Swedish kronor (SEK) 190:- + postage.
Penton, a professor emeritus of religious history at the University of Lethridge, Canada, was a fourth-generation Jehovah's Witness until 1981, when his research led to his break with the Watch Tower organization. His scholarly and thoroughly documented work on the movement will undoubtedly remain the standard work on the history of Jehovah's Witnesses for many years ahead.
PAYMENT: Within Sweden: Pay via PayPal or to CKI-Förlaget, bankgiro 821-8372, S-E Banken. Payment from abroad can be sent via PayPal or transferred to this bank account: Alfa Skrivcentrum, S-E Banken, IBAN: SE42 5000 0000 0516 7004 7296. BIC: ESSESESS. Pay in Euro or USD.